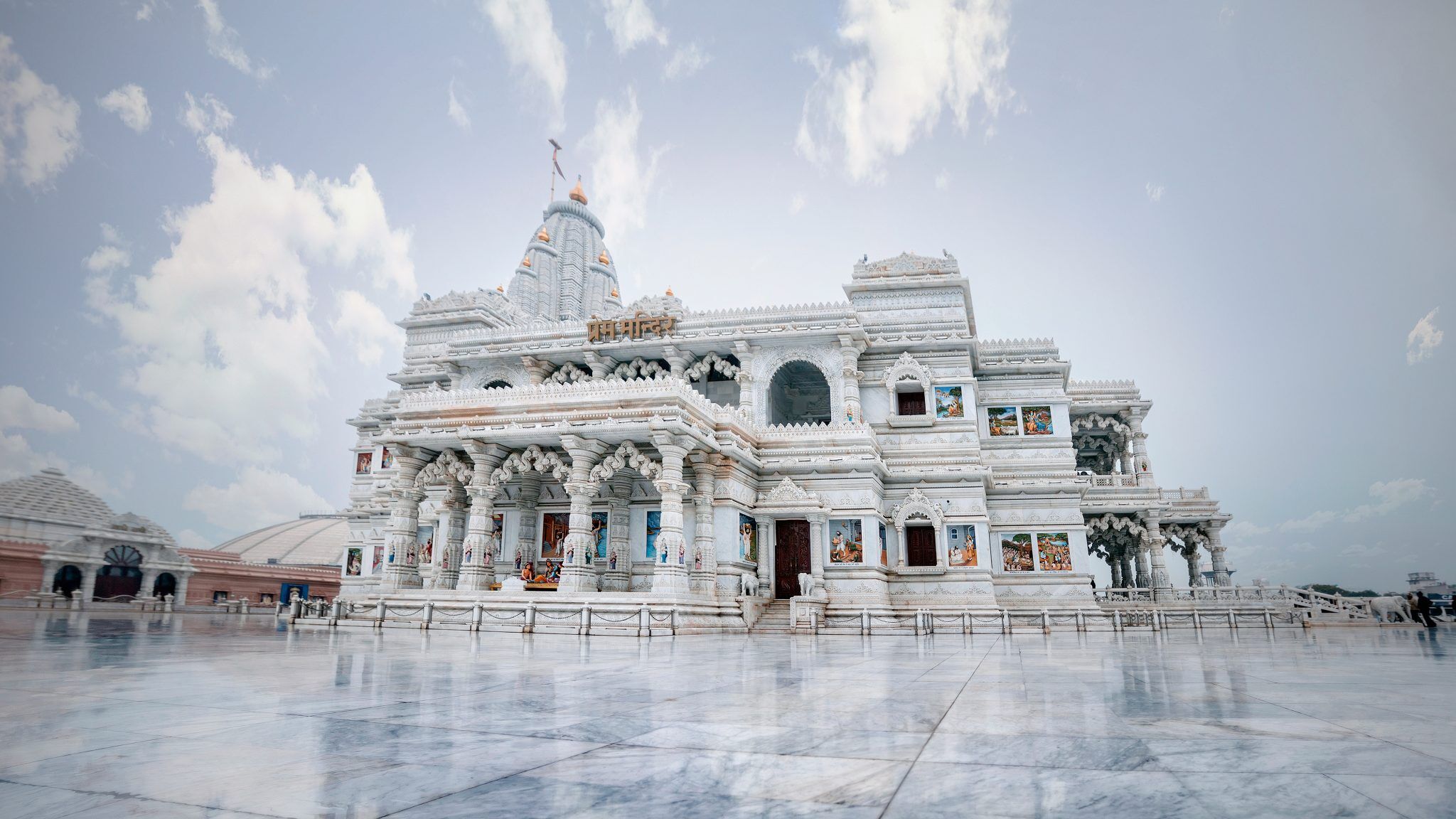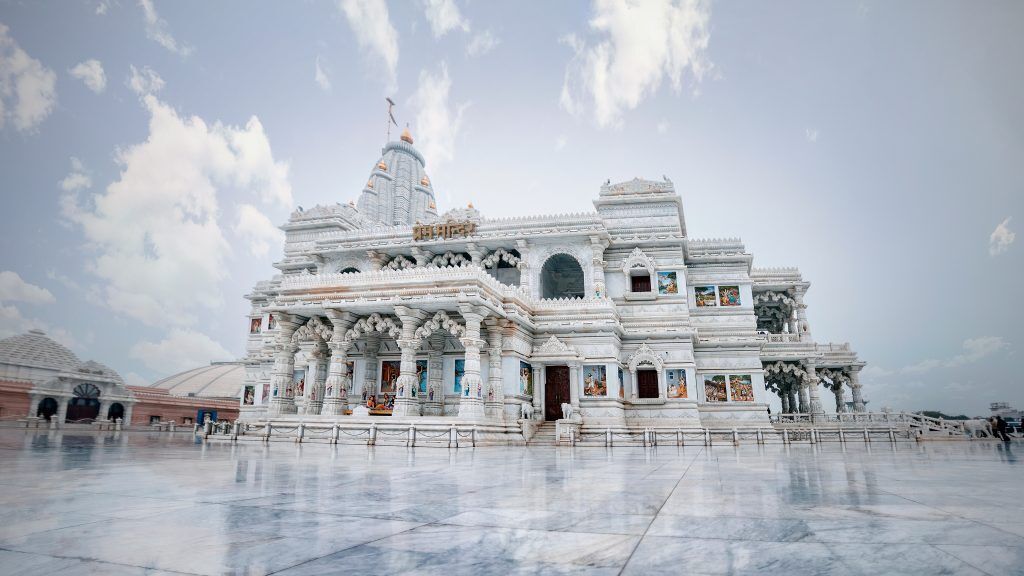 There are over 5000 temples in Vrindavan, Prem Mandir is one to put on your list to visit. Sri Radha Krishna are installed in this temple and darshan times are included later in this post.
About Prem Mandir
Prem Mandir Vrindavan temple complex is maintained very meticulously and looks like a magnificent movie set. Evening is a particularly wonderful experience here because the colorful lights adorn the white marble temple and its grounds, giving them a particularly grandiose and beautiful appearance.
Prem Mandir was built of white marble in 2001, is a public temple dedicated to Kripalu Maharaj. Seeing the lighting decorations at Prem Mandir in person is an unforgettable visual experience. They provide a beautiful atmosphere when they are active at night.
Vrindavan's Prem Mandir has some special attractions.
There are two levels in the sanctuary. Forms of Radha and Krishna are positioned on the first floor, whereas those of Sri Sri Sita Ram are positioned on the second level.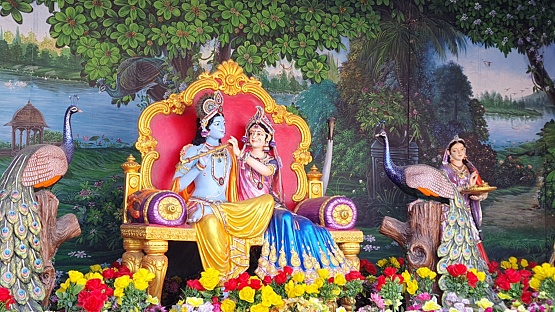 The temple is decorated with Italian marble and features, and photography is allowed here without restriction, unlike at other temples in Vrindavan.
It is a wonderful experience to be here during evening, when the white marble temple and its compound are lit up in colorful lights, making it look truly majestic and sublime.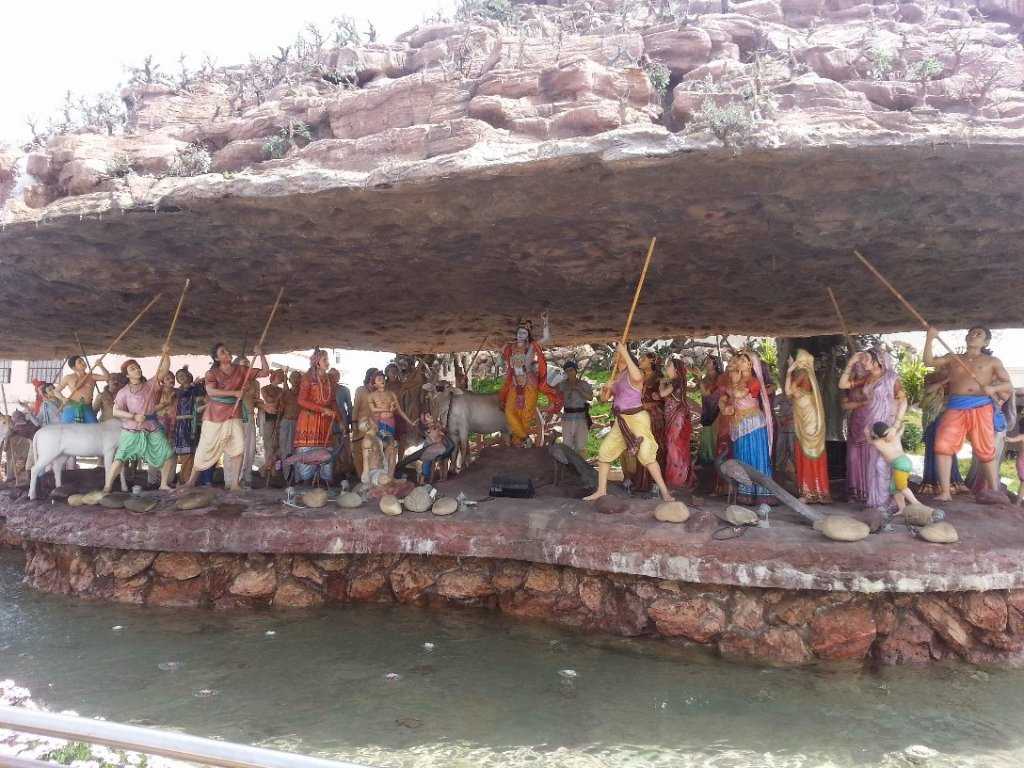 What are the directions to Prem Mandir?
Vrindavan's Prem Mandir is renowned for being an important landmark and entry point (from both the Taj Expressway and the Delhi-Mathura Highway). You may take any vehicle from Mathura Train Station and arrive here. For information on how to reach Vrindavan from Mathura or how to get there from New Delhi.
Prem Mandir Darshan Timings
Prem Mandir Vrindavan timings are listed here. The temple is open on all days from 5:30 AM to 8:30 PM. The schedule for the Aarti at the Prem Mandir is as follows:
1. Mornings:
5:30 AM – Aarti and Parikrama
6:30 AM – Bhog and Bhog Door Closes
8:30 AM – Darshan and Aarti
11:30 AM – Bhog
12:00 PM – Shayan Aarti and doors close
2. Evenings:
4:30 PM – Aarti and Darshan
5:30 PM – Bhog
8:00 PM – Shayan Aarti
8:15 PM – Shayan Darshan
8:30 PM – Door Closes
A satsang hall is being built (Future).
An enormous lecture hall is being built at Prem Mandir, where up to 300,000 persons can be accommodated at one time. It is in the form of a huge dome and appears majestic from a distance. The hall will host kirtan and likely Bhagavad Gita lectures as well.
Kripalu Jagadguru Hospital (Institution)
Vrajvasis from nearby villages come here to Prem Mandir hosptial for diagnosis, as a proper hospital is located inside the compound. The hospital charges are either waived or minimal. Doctors from Mumbai and Delhi, among other cities, volunteer at this hospital because they care about their patients. Both Allopathic and Ayurvedic consultations can be found here.
Prem Mandir Vrindavan Official Website
In addition to Prem Mandir, there are many Vrindavan Temples to visit and explore.
If you are wondering What hotels are near Prem Mandir – Shyama Shyam Dham? You can see some recommendations here.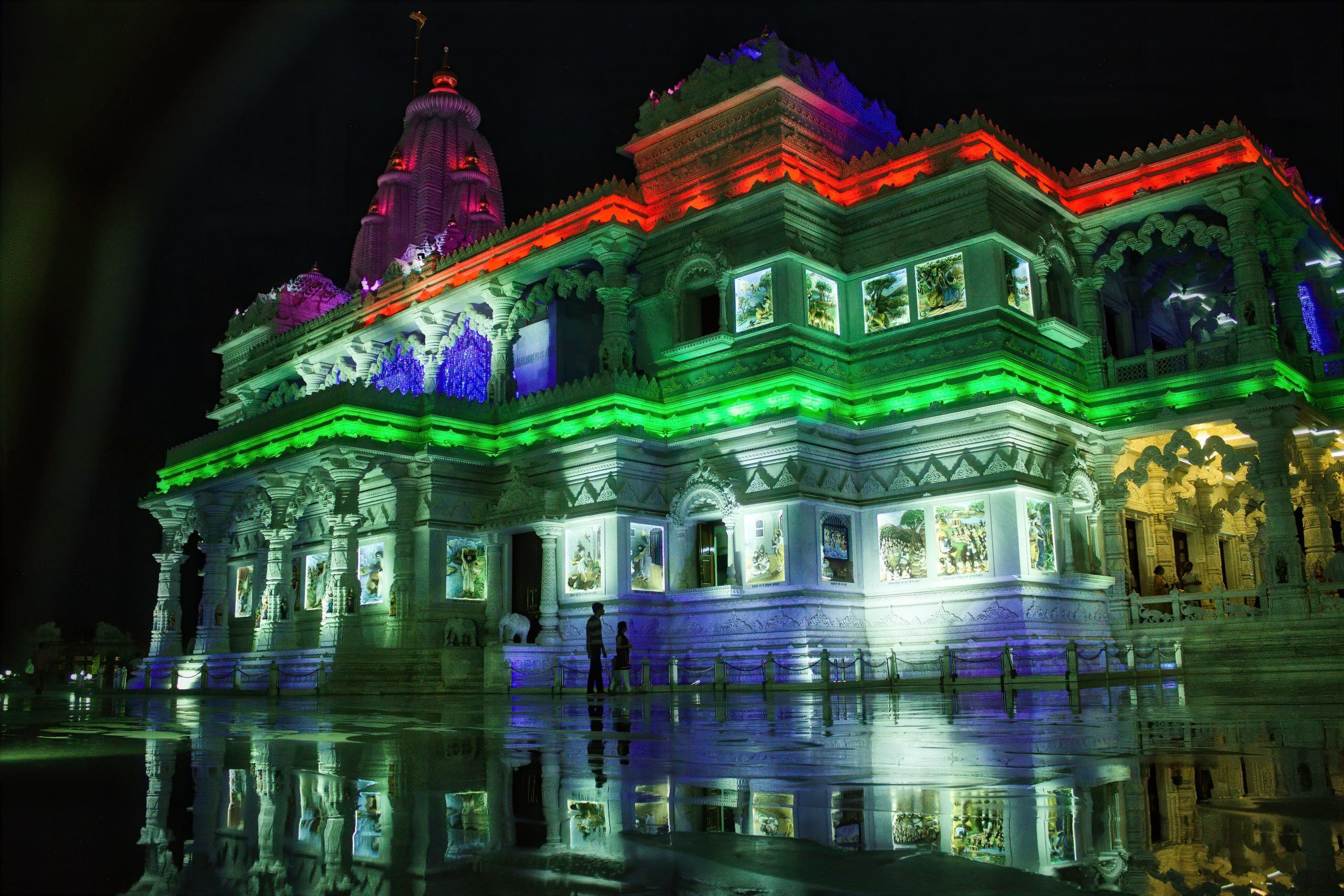 Recent Posts